Our collaboration with Dream Gardens Knoxville involved delivering comprehensive branding and marketing solutions along with meticulous website care. We crafted captivating designs for various materials, including brochures, lawn stakes, and vehicle wraps, ensuring consistent and eye-catching brand representation across multiple platforms. By combining our creative expertise with Dream Gardens Knoxville's vision, we successfully enhanced their brand identity and elevated their marketing presence.
Our work with River City Snacks in Prescott, Wisconsin entailed providing extensive consulting services and assisting with their brand concept. We created a striking logo design that captured the essence of their business, and crafted attractive package designs that stood out on the shelves. By working closely with River City Snacks, we were able to develop a cohesive and compelling brand identity that resonated with their target audience, ensuring their products made a memorable impact in the market.
In our collaboration with Micro Bros LLC Growery located in the Upper Peninsula of Michigan, we provided a comprehensive range of services. We offered consulting expertise to help shape their business strategy and executed a robust branding initiative, including logo design that embodied their vision. Additionally, we built and maintained their professional website, ensuring a seamless online presence. By closely collaborating with a Chinese manufacturer, we facilitated the creation of custom packaging designs that reflected the brand's identity. Furthermore, we developed compelling promotional materials to enhance their marketing efforts, resulting in increased brand visibility and customer engagement.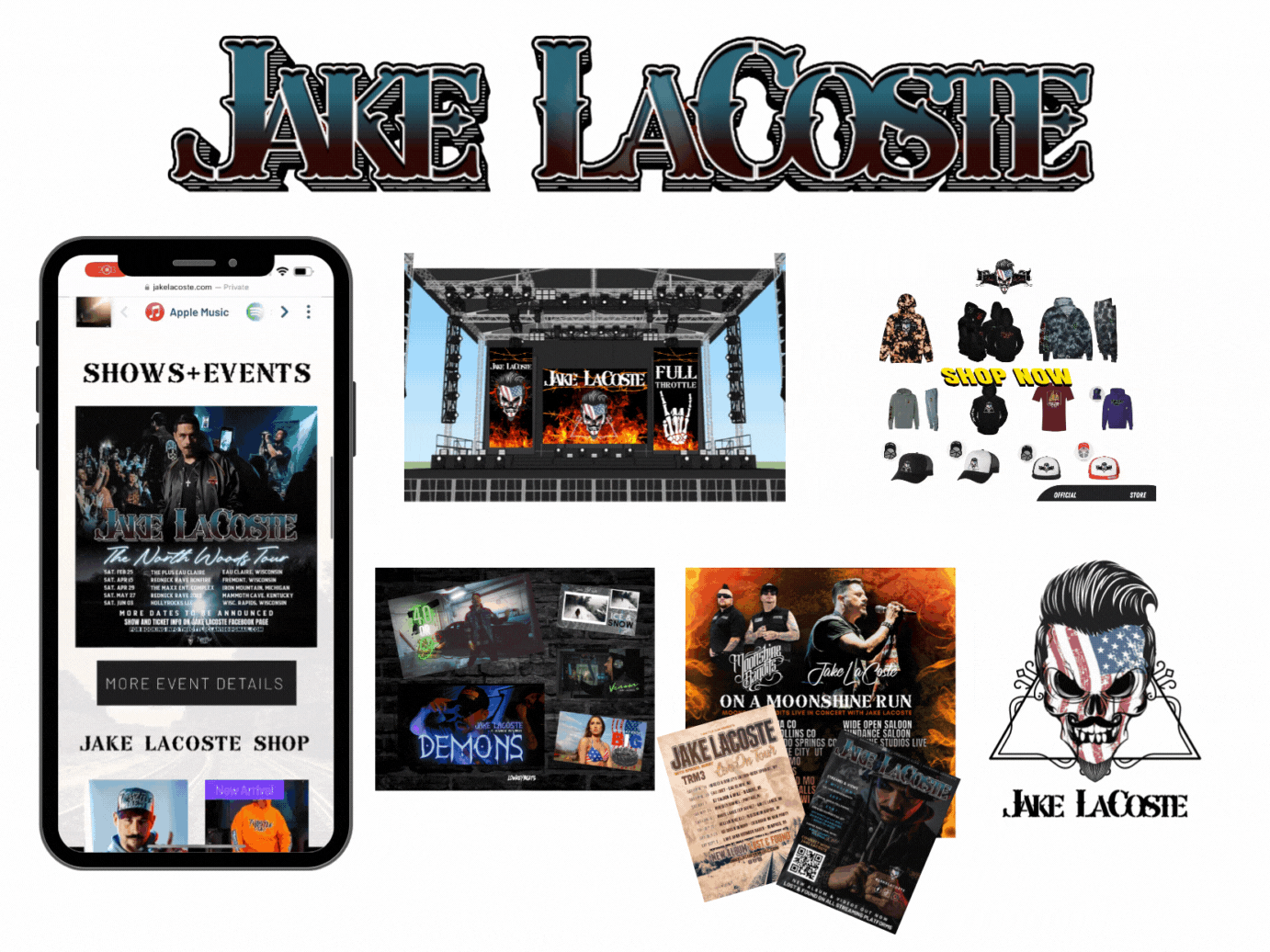 Our collaboration with Jake LaCoste for complete artist brand development encompassed a wide range of services. We provided consulting expertise to refine Jake's artistic vision and executed a dynamic website build that showcased his work and engaged his audience. We crafted a unique and memorable logo design that captured his individuality and brand essence. In addition, we collaborated on stage design concepts to create captivating visual experiences for his performances. Our team created compelling creative content, including graphics and videos, to enhance Jake's online presence. Furthermore, we designed eye-catching event flyers that effectively promoted his shows. Throughout the process, we offered ongoing brand support to ensure consistency and growth in Jake's artistic journey.
Our collaboration with Rocky Mountain Vasectomy in Miles City, Montana involved creating a powerful video advertisement for commercial use on television and social media platforms. We undertook the entire process of video production, from conceptualization to final editing. Our team worked closely with the client to understand their unique value proposition and target audience, ensuring the video effectively conveyed their message. By combining compelling visuals, engaging storytelling, and professional editing, we created a high-quality video advertisement that captured the attention of viewers and effectively promoted Rocky Mountain Vasectomy's services.
In our collaboration with Riot Energy Drink and coaching brand representative Kayne Dynell, we provided comprehensive consulting services to enhance their brand presence. We assisted in designing impactful events and developing strategies for user-generated content, fostering active consumer engagement and loyalty. Our collaboration successfully created a compelling brand image and cultivated a vibrant community of enthusiasts.
In collaboration with Washington promotion company Varsity Crew, Riot Energy, and local event planners, we have provided comprehensive event design services for multiple events in both Los Angeles and Washington. Our involvement spanned consulting, complete event branding, designing event flyers, creating engaging promotional videos, crafting event maps, and designing custom ticket stubs, among other deliverables. By closely working with our clients, we ensured that each event had a cohesive and visually appealing experience, leaving a lasting impression on attendees and enhancing the brand presence in both locations.
We have successfully created numerous promotional and advertising materials for companies, helping them accelerate their sales and establish a strong market presence. With our expert team, we specialize in designing compelling content that captures the attention of the target audience. From eye-catching visuals to persuasive copywriting, we tailor our approach to create the perfect marketing materials that resonate with customers and drive business growth.